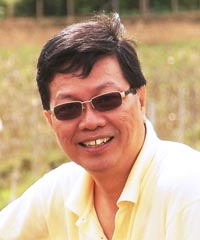 Mr Albert Teo Chin Kion – Managing Director Borneo Eco Tours/Sukau Rainforest Lodge
A graduate in Economics (Honours) from the University of London in 1977, Albert Teo has been in the tourism industry for the last thirty four years.
Over the three decades, he has been a hotelier, tour operator, lodge and backpacker owner and operator, photographer, author, publisher, conference organizer, ecotourism consultant, speaker, lecturer and social entreprenur. Albert is presently working on designing and building two new ecolodges in Sabah.
A keen photographer, he has trekked over 1,000km in Borneo and published over 200 postcards designs, motivational bookmarks, and Photo CDs of Borneo, published ten books including the best selling Sabah -Land of the Sacred Mountain, Journey through Borneo, Saving Paradise-The Story of Sukau Rainforest Lodge and the latest book, A Souvenir of Sabah Malaysian Borneo.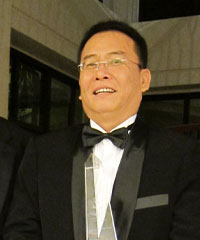 Baton Bijamin – General Manager/Director Borneo Eco Tours/Sukau Rainforest Lodge
Mr. Baton Bijamin is perhaps the muscle behind the formation of Borneo Eco Tours in 1991, and subsequently the Sukau Rainforest Lodge in 1995. Naturally gifted with determination, a cool sense of vision, an immeasurable amount of hope and a knack for industrious management, Baton was instrumental in the setting-up both establishments alongside the owner of the company Mr. Albert Teo. Coming from a humble background, Baton rose from one success to another to bring Borneo Eco Tours to where it is today; one of the biggest and most successful inbound tour companies of its kind in Borneo with multiple international tourism awards. With a stronghold in Eco Tourism policies and green practices, Borneo Eco Tours will continuously grow under the skilled management of Baton.
Baton believes that "Success is a journey, not a destination" , which is a sure testament of continuous development, both personally and for the company.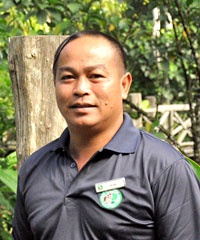 Jaini Ahmad @ Jamil – Lodge Supervisor
A particularly enthusiastic staff member you may come across when you visit Sukau Rainforest Lodge is Jaini Ahmad, or affectionately known as Jamil, the lodge's boatmen supervisor. Serving in SRL since its opening in 1995, Jamil has seen many roles within the lodge, but he always tackles his assignments with dedication and a smile. He is well trained in operations, service, and enjoys meeting guests from around the world; when he's not supervising his team, he's always more than happy to lead guests on a river adventure.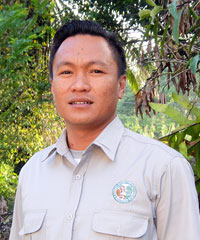 Suhaili Kahar – In-house Naturalist

Born and raised in Sukau, Mohd. Suhailie or Mincho, a local Orang Sungai (Ida'an) is our new management recruit. His appointment is timely to double our conservation efforts and to operate with minimal impact in the wildlife sanctuary of Kinabatangan. Mincho is backed by 12 years of work experience as a nature guide, 10 years as research officer and 9 years as Honorary Wildlife Warden. He specializes in Orang Utan behavior research and Wildlife education programmes.
As Mincho joins our award winning Sukau Rainforest Lodge, he is determined to make the lodge and sister company, Borneo Eco Tours become a well known brand that is symbolic to conservations, particularly in Borneo. For instance, one of his commitments is introducing the Saving Hornbill programme (SAILLS), dedicated to conservation of biodiversity-rich Kinabatangan.
Check out this interesting video of Mincho, making sounds of orangutan calls.
Masnizah Bakri – Room Division Supervisor
Masnizah is a local Orang Sungai from Kg. Sukau. She joined Sukau Rainforest Lodge in 2011 after finishing her secondary school. Masnizah knew some English that she learned in school, but with a lot of effort and guest interactions, her English improved tremendously. She has also learned and developed the necessary skills to run an ecolodge – from management and guest relations to assisting the operation team during peak season.
Masnizah believes that working at Sukau Rainforest Lodge has been an invaluable experience, as she enjoys the wildlife, environment and most of all, her colleagues as they are like one big family. She is happy to be a part of the team, as they all strive for excellence in their personal capacity, as a company and when working with the guests.
Masnizah is ever-ready in seizing opportunities to learn something new in the industry, as she lives by the saying: "our eyes are placed in front because it is important to look ahead than to look back".