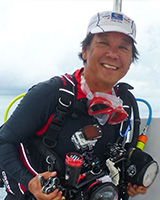 Clement Lee, Malaysia Dive Ambassador and Conservation Fellow
A very strong protector and conservationist of the Ocean, Clement Lee Ngak Yeo, one of the pioneer of Dive Industry in Sabah in 1983 and also the pioneer of  the now renown Sipadan Island in Semporna, has been retired since 2014 after having led the Dive Company he help founded in early 1983 – Borneo Divers.
Despite losing millions of Ringgit, Clement was noted for making the bold decision to agree to vacate the Sipadan island in 2004 just to protect the fragile environment of the island, and today, Sipadan is the World Role Model for conservation.
He has received numerous recognition awards notably in 2008 when he received the "DEMA Reaching Out Award", making him the first Asian to get recognized by the World's largest Dive Association DEMA ( Diving Equipment Marketing Association ) in Las Vegas. 
He is also now the Life Honorary Member of Emirates Diving Association (EDA) in UAE.
In 2011, he was inducted into the "International Scuba Diver Hall of Fame", which is a prestigious  recognition in Cayman Island that is awarded to individuals like the late legend Captain Jacques, world famous photographer David Doublet, PADI founders the late John Cronin and Ralf Erickson, just to name a few.
Clement has also received awards from PADI, Tourism Malaysia. Besides that, he has been a Sabah Tourism Board member for 9 years, appointed in 2004 and put in charge of Dive industry development in Sabah. The divers' arrival and Sabah Dive Tourism receipt rose from few thousands a year to now about 55,000 (75,000 in 2017) with Dive Tourism Receipt now rank over RM385 million (RM420 millions in 2017) a year. Clement was also the Chairman of the Sabah Tourism Dive Committee until he retired in 2012.
Having travelled all over the world to promote Diving for Sabah, Clement has been appointed as Tourism Malaysia Adviser for Diving in May 2015 and his new role is to continue promoting the diving scene and Dive Industry in Malaysia through talks.