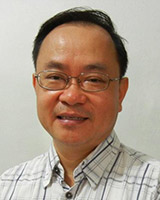 Dr. Arthur Chung
A local Sabahan born in Sandakan, Dr Arthur Chung obtained his B.Sc. (Zoology) and M.Sc. (Entomology) at Universiti Kebangsaan Malaysia in Bangi, Selangor. He later did his D.Phil. on Tropical Forest Entomology at Oxford University in U.K.
While pursuing his M.Sc. on 'Ant Diversity in the Tropical Rainforest' with a study grant from Shell, his love for nature deepened when he spent more than a year of fieldwork in the world-renowned Danum Valley Conservation Area. Upon finishing his M.Sc. degree, he joined the Sabah Forestry Department, and was tasked to conduct studies on beetles which are the largest insect group, and many are ecologically and economically important in forestry. He later pursued his D.Phil. in Oxford with funding from the Department of International Affairs, U.K., researching on beetle diversity comparison in different habitat types in Sabah, namely primary and secondary forests, forest plantation and oil palm plantation.
Arthur is now a senior researcher at the Forest Research Centre, Sepilok of the Sabah Forestry Department and has been working for 23 years. He is currently heading the Insect Diversity Programme, Insect Pest & Disease Programme as well as the Consultancy Unit of the Centre. Through the Heart of Borneo Initiative and other forestry projects in Sabah, he has surveyed insects in more than 30 forest reserves within the state. Such information, especially rare, interesting and endemic insect species would enhance biodiversity conservation efforts and are incorporated in formulation of forest management plans and high conservation value reports. Arthur is also actively involved in research in the Lower Kinabatangan Segama Wetlands which is the largest Ramsar site in Malaysia. He has coordinated two scientific expeditions in 2014 and 2015, under the Sabah Forestry Department, with participation from various other agencies.
To date, Arthur has written more than 150 research papers and articles, and authored two books on insects, namely 'Ants of Lowland Rainforests of Sabah' and 'Discovering Insects of the Heritage Amenity Forest Reserve in Sandakan'. He has also co-authored a few other books which include Mangroves of Sabah – Flora & Fauna, Biodiversity Conservation of the Telupid Forests, Biodiversity & Conservation of the Meliau Range  and the Sandakan Rainforest Park. He is currently working on a book on 'Beetles of Borneo' with two other experts.
Arthur is the past Chairman for the Sabah Society, Sandakan Branch, which promotes nature, history, adventure and culture in Sabah. He is a keen nature photographer, especially on insects, with many of his photos used to promote nature tourism and biodiversity conservation in Sabah. He has also produced more than 50 musical powerpoints since 2012, featuring mainly insect diversity and beauty in Sabah. The powerpoints are often featured in his talks in schools, universities, clubs and the general public in promoting the beautiful 'Land Below the Wind'. He is also interested in art, having ventured into ink-sketching, watercolour and oil paintings.
Arthur has been to Sukau many times but he is never bored of this place. Besides the interesting riverine wildlife, the serenity and tranquility of the mighty Kinabatangan and its tributaries often provide the peace of mind, especially while river-cruising in the early morning, some of which have been featured in his powerpoints.