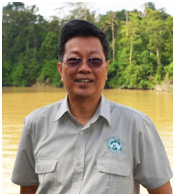 Mr. Albert Teo Chin Kion
Bsc.Econ.(Hons.)/London University, FHCIMA, CHA, ADK.Adjunct Professor, University Malaysia Sabah, Malaysia.Fellow/Adjunct Lecturer, Edith Cowan University, Perth, Australia.
Managing Director/Chairman, Borneo Eco Tours, Malaysia.
Managing Director/Chairman, Sukau Rainforest Lodge, Malaysia.
Director, Borneo Ecotourism Solutions and Technologies (BEST). Society, Malaysia.
Founding Board Member, Global Ecotourism Network GEN.
Deputy Chairman, Asian Ecotourism Network AEN.
Member, Product Development committee, Sabah Tourism Board (2013-17)
Welcome to Sukau Rainforest Lodge - Saving Paradise
Dear Eco-Travelers,
Sukau Rainforest Lodge (SRL) was born from our vision of creating a complete ecotourism experience. It was built in 1995, with the mission to excel as an ecolodge by providing a unique experience in hospitality, interpretation, conservation with local community participation and leadership development.
The majority of our staff in SRL is local and since its humble beginning in 1995, their families were lifted out of poverty through our capacity building and training programs, and various business opportunities that were created. Do speak to our staff, and learn about their culture. They may be a bit shy and their English are not perfect, but they are very charming.
Since the Lodge's opening in 1995, SRL together with our sister company Borneo Eco Tours (BET) operate a non-governmental organisation "Borneo Ecotourism Solutions and Technologies" or BEST Society (formerly known as Sukau Ecotourism Research and Development Centre, SERDC) and initiated several community, medical, education and environmental projects including the KWICORP tree planting project.
As part of our commitment to corporate social responsibility, we set aside RM 4.00 per adult of every international guest who stays with us to BEST Society. (In addition, BET contributes RM 8.00 per guest). This fund is set aside regardless of whether we make profit or not. As of December 2017, Borneo Eco Tours and Sukau Rainforest Lodge have contributed RM 857,185.00 and RM 602,643.08 respectively out of total RM 2,316,702.79 to implement community and environmental projects under our non-profit BEST Society.We adhere to the environmental codes of responsible tourism of World Travel and Tourism Council (WTTC) and PATA's Green Leaf program. Please read our in-house Green Policies and more information about Sukau Rainforest Lodge (SRL) to help you in planning a memorable holiday and get the most out of your stay.
In 2015, we celebrate our 20th anniversary and also join the illustrious group of ecolodges around the world under the National Geographic Unique Lodges of the World brand as a charter member. This is a great achievement not just for us but also for the local community who has come a long way since those days when they could hardly speak a word of English. We thank you all for your faith in us and your continuous support in our effort to lift these people out of poverty while helping to protect this little part of paradise on earth.
For more information on SRL, you may want to get a copy of "Saving Paradise", co-authored by Albert Teo and Carol Patterson and launched in April 2005 during the Borneo Ecotourism Conference 2005 to celebrate our tenth anniversary, by contacting info@borneoecotours.com.
I welcome you to personally come and experience paradise at our multi international award-winning ecolodge. Terima Kasih (Thank You).
Sincerely,
Albert C.K. Teo
Managing Director
Website: www.sukau.com
Email: info@sukau.com