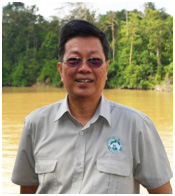 For Tomorrow's Generation: A Guide to Keeping Sukau, Kinabatangan Green
Dear Guest,
Selamat datang ke Sukau Rainforest Lodge (Welcome to Sukau Rainforest Lodge)!
You're currently in Kinabatangan, one of Borneo's most exceptional yet sensitive environments. This part of Borneo is home to the highest concentration of wildlife wonders and breath-taking nature scenes that never fails to delight the heart.
Here at Sukau Rainforest Lodge, we are truly blessed to be surrounded by nature's gifts. Certified with Travelife Gold Certified lodge in Malaysian Borneo, we are doing what we can to make sure this little piece of heaven on earth is protected and preserved. Presently, our lodge has developed and implemented sustainability programs, such as a Green & Sustainable Practices guideline, as well as environmental and community projects. Some of these efforts also include environmental education and interpretation, sustainable water treatment systems, reducing energy and water consumption, hiring locals, visiting local schools to raise environmental awareness, engaging with local and international academic institutions in research and many others.
Why is this important? Environmental degradation from the continuing decline of biodiversity and the impacts of climate change is very real. In order to cherish and protect the environment here, we invite you to be part of our sustainability efforts. You can do this by reusing your towels and linens, turning off the lights and air-conditioner when you leave your room, recycling, drinking from a reusable water bottle, and even contributing to our environmental and community projects under our own NGO, Borneo Ecotourism Solutions and Technologies (BEST) Society www.bestsociety.org . In doing so, you're not only helping to reduce your impact, but also creating a brighter future for Sukau, Kinabatangan and its generations to come.
For further information on Sukau Rainforest Lodge's commitment to sustainability, you can also check out our Green & Sustainable Policies on our website http://www.sukau.com/ or in our information folder, which is located in all guest rooms. We also welcome any suggestions and feedback from you, so don't hesitate to get in touch with us!
Thank you for choosing Sukau Rainforest Lodge!
Albert Chin Kion Teo
Founder and Managing Director
Sukau Rainforest Lodge/Borneo Eco Tours