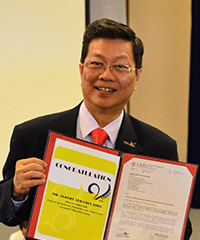 Albert Teo
Managing Director Borneo Eco Tours/Sukau Rainforest Lodge
Bsc.Econ.(Hons.)/London University, FHCIMA, CHA, ADK.Adjunct Professor, University Malaysia Sabah, Malaysia.
Fellow/Adjunct Lecturer, Edith Cowan University, Perth, Australia.
Managing Director/Chairman, Borneo Eco Tours, Malaysia.
Managing Director/Chairman, Sukau Rainforest Lodge, Malaysia.
Director, Borneo Ecotourism Solutions and Technologies (BEST). Society, Malaysia.
Founding Board Member, Global Ecotourism Network GEN.
Deputy Chairman, Asian Ecotourism Network AEN.
Member, Product Development committee, Sabah Tourism Board (2013-17)
Albert Teo has been in the tourism industry for over forty years and has pioneered ecotourism in Sabah, Malaysian Borneo since 1991. Throughout his professional career in the tourism industry, Albert has been a hotelier (1977-91), tour operator (1991-present), an eco-lodge owner/operator (1995-present), as well as an ecotourism consultant, speaker and lecturer. His companies, Borneo Eco Tours and Sukau Rainforest Lodge  have both received numerous international recognition and awards.
Albert is also an avid traveller and photographer who has trekked over 1000km in Borneo and has published ten books to date. These books include the best-selling 'Sabah-Land of the Sacred Mountain', 'Journey through Borneo' and also 'Saving Paradise: The Story of Sukau Rainforest Lodge', which he co-authored with sustainable tourism champion and consultant, Carol Patterson.
Well-known for being a visionary, Albert established Sukau Rainforest Lodge in 1995 on the banks of Sabah's longest waterway, Kinabatangan River. It all transpired when he saw that the natural landscapes and its diverse flora and fauna treasures were being threatened by progress and development. Even with very little knowledge about running an ecolodge, he knew something had to be done in order to "save paradise". He has proven that taking a leap of faith is worth the while and today, Sukau Rainforest Lodge is renowned internationally and is currently branded as a National Geographic Unique of the Lodges of the World.
Today, Albert is focusing most of his energy and time on his non-profit organization, Borneo Ecotourism Solutions and Technologies or BEST Society by developing social entrepreneurship of the local communities in Sabah, especially those who are living in the rural areas. In 2015, he established the integrated community based tourism project called Kiulu Farmstay which aims to empower the 13 villages in Kiulu through capacity building. However, BEST Society does not only focus on community projects, but is also deeply involved in environmental projects too. Its latest initiative, the Borneo Land Conservancy (BLC) and Sukau Ecotourism Research Centre (SERC) are just two examples of the environmental projects currently undertaken by BEST Society on the Kinabatangan River. In 2013, the non-profit division received the UNWTO Ulysses Award for excellence and innovation in tourism in the NGO category in Madrid, Spain.
Having organized five greatly successful international ecotourism conferences in Malaysia to date, which includes the World Ecotourism Conference and Field Seminars (1999,) the first Asia Pacific Ecotourism Conference (APECO) (2002), the Borneo Tourism Conference (2007) and also the 8th Asian Pacific Ecotourism Conference (2014), Albert Teo is also often invited to share his expertise and knowledge in the industry at numerous conferences around the world.
Presently, he is a Board Member of Global Ecotourism Network (GEN), Vice Chair of Asian Ecotourism Network (AEN), Adjunct Lecturer and Fellow of Edith Cowan University (ECU) and Adjunct Professor of University Malaysia Sabah (UMS).  Albert has also served in various capacity in the tourism industry including: Sabah Chapter Chairman of Malaysian Association of Tours and Travel Agents (MATTA), Chairman of the Sabah Tourist Association, and the Rural Tourism product development committee of Sabah Tourism Board. Albert was also a member of the finalist selection committee for the Tourism for Tomorrow Awards of the World Travel and Tourism Council (WTTC) for five years.