TOURISM TAX
What is the Tourism Tax (TTx)?
Effective 1st September 2017, foreign tourists will be charged a flat rate of RM10 per room per night for all Tourism Tax (TTx) registered hotel classifications in Malaysia. The Tourism Tax Bill was passed in April 2017.
How do I pay the TTx at Sukau Rainforest Lodge?
Foreign guests of Sukau Rainforest Lodge will have to pay the TTx upon CHECK OUT preferably in cash Ringgit Malaysia.
RESERVATION
Can I book room only?
No, as accommodation is bundled with a package which includes river cruises and meals.
How do I extend my stay for another night?
You may contact our tour consultants. However, any extension depends on room availability
What types of room can I choose?
We have two types of room available. Superior and Villa rooms.
Do you offer discounts to children?
Yes, we offer discounts for children, but only for some of the published tours up on our website. The discount given depends of the child's age (based on their BIRTH YEAR, not birth month) and also on the type of service that's being offered.
The following discounts apply to tours that include Sukau Rainforest Lodge ONLY:
Children age 3 and below – Free
Children ages 4 to 12 may share a room with ONE adult – 25% discount
Children ages 4 to 12 may share a room with TWO adult – 50% discount
Please note that children aged 13 and above pay full price.
Contact our tour consultant at for further information.
What is the recommended length to stay here?
We recommend a minimum stay of three (03) nights so that you can maximize your viewing experience as well as increase your exposure to the breathtaking and spectacular sceneries here in Borneo.
What can I expect to see at SRL?
Sukau Rainforest Lodge offers a wide range of tours which give you the opportunities for definitely new wildlife sightings and views of nature in Borneo such as Orang Utan Search, Sandakan Wildlife Safari, River and Rainforest, Kinabatangan Wildlife Safari (overland), Kinabatangan Wildlife Safari (boat), Sukau Tabin Wildlife Experience, Bird Watching in Kinabatangan.
I am bringing my family with young children, what can they do here?
There is plenty of real life experience for you and your kids to discover at Sukau Rainforest Lodge which includes Batik Painting. Batik is a technique of traditional wax-resist dyeing of clothes. Children can learn these techniques while creating their own design and be inspired by the rainforest surroundings. Other than that, you and your young ones can learn more about one of Borneo's famous primates, the Orang Utans  (Pongo pygmaeus)by joining a talk by our in-house naturalist and visit the Ape Gallery! You and your family can also enjoy fun time at the dip pool or play board games together
What will the temperature be on my visit?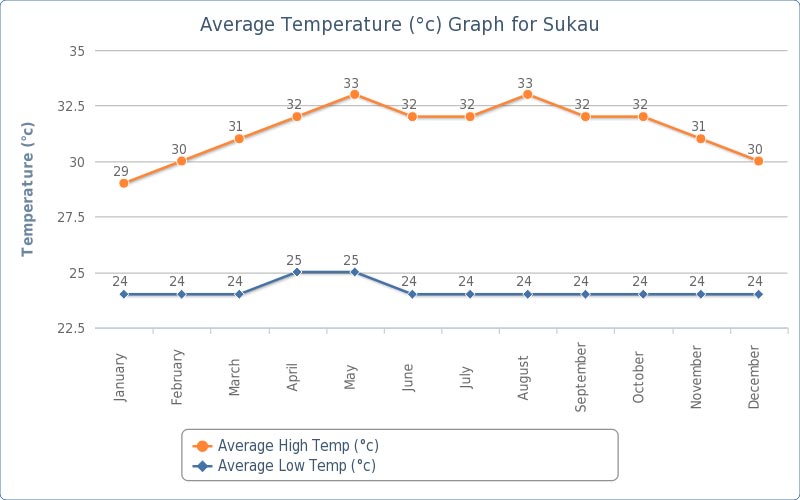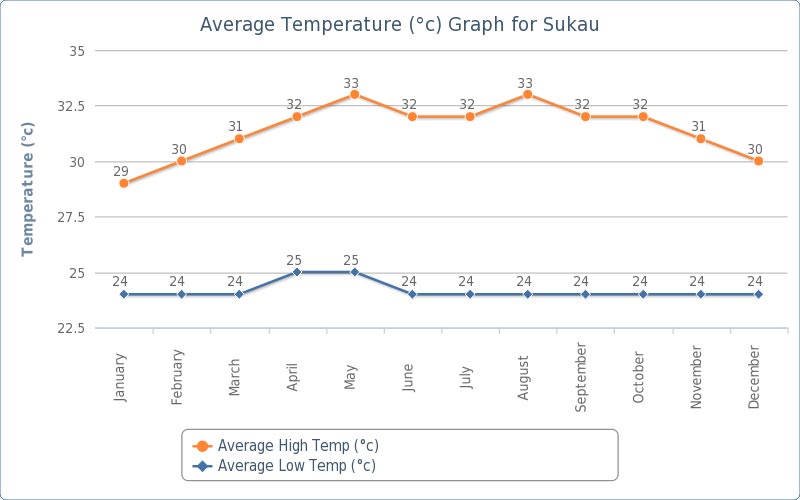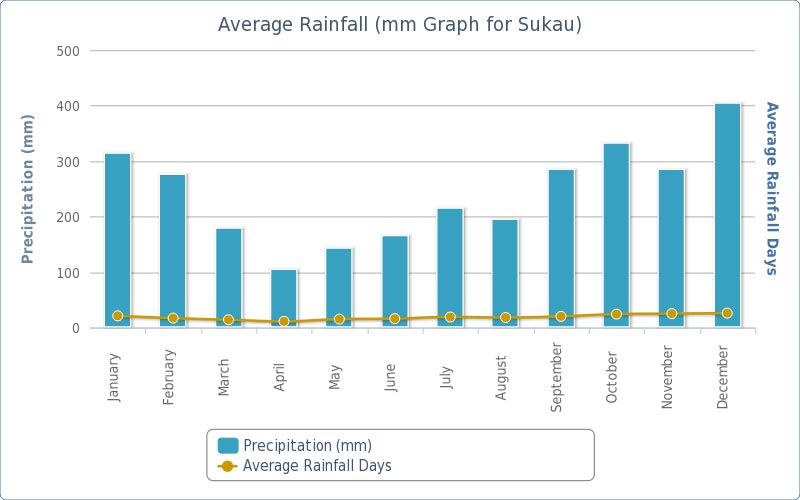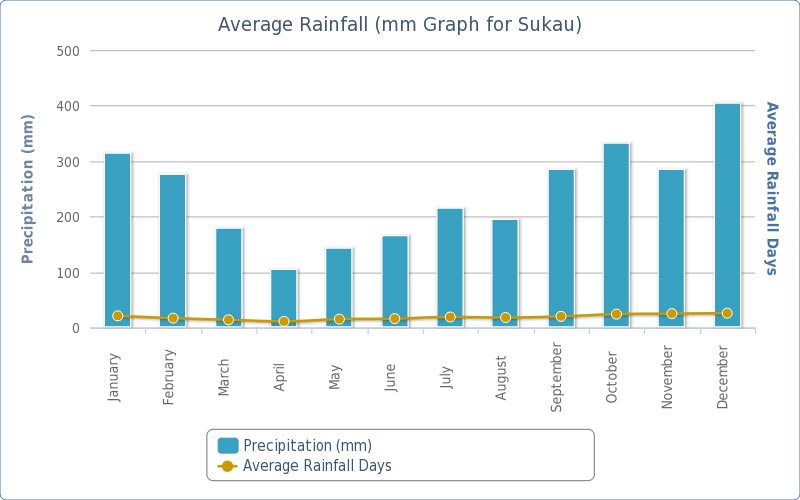 Source : www.worldweatheronline.com
Do you accept credit cards?
Yes, we accept Mastercard and Visa
Health Concerns?
Shots and health risks are always changing so visit your doctor a month or so before you travel and make sure you are up-to-date on all your vaccinations and get the latest advice.
| | | |
| --- | --- | --- |
| DISEASE | RECOMMENDATION | WHEN TO SEE DOCTOR |
| Typhoid | Vaccination recommended | 10 days before travel |
| Hpatitis A | Vaccination recommended | 2 weeks before travel |
| Diphtheria | Vaccination recommended | 3 months before travel |
| Tuberculosis | Vaccination sometimes recommended | 3 months before travel |
| Hepatitis B | Vaccination sometimes recommended | 2 months before travel |
| Rabies | Vaccination sometimes recommended | 1 month before travel |
| Meningococcal Meningitis | Not required | |
| Cholera | Not required | |
| Yellow Fever | Certificate of vaccination required if arriving from an infected area | 10 days before travel |
| Japanese Bencephalitis | Vaccines sometimes recommended | 1 month before travel |
| Tick-borne Encephalitis | Not required | |
The risk of malaria and Dengue fever varies Borneo but appropriate preventive medicines are required for several areas be more cautious in rural areas. Measures should always be taken to avoid mosquito bites, such as nets and creams.
Drink bottled water.
I have a special dietary requirement
Please tell us if you have any allergies or are vegetarian we will do our best to cater to your needs.
Do you offer discounts for children?
Yes we do, kindly contact our tour consultant for more details.
When is the best time to visit?
There is no bad time to visit Sukau from November to February is the monsoon season so a very wet time of the year to visit. While the extra rain fall does open up channels to areas that cannot be seen during the dry season extended amounts of rainfall can make it hard to spot animals or cause trips to be cancelled. The main flowering season is from April to October but the animals are out at all times of the year.
Do I need to bring reference books on plants, birds and other animals?
We have quite an extensive collection of natural history books, including Birds of Borneo, to help guests identify a species or to learn more about a particular topic related to the ecology of the neotropics. Check out these inspiring books for sale at special price up to 50% discount to complement your holiday with us. Your purchases will be handed on to you upon your arrival.
GETTING HERE
How do I get there?
You need to make your way to Sandakan. Getting to our lodge from Sandakan will require you to journey via boat transfer or overland. For more information on how to get to our lodge, please visit this page
What should I pack?
Lightweight walking shoes (waterproof is preferable).
Water shoes or sandals.
Sports socks
Lightweight, casual hiking clothing ie light pants, shorts and shirts.
In village areas please dress modestly especially women
Bathing suit and a hat
Sunscreen and biodegradable insect repellent (Citronella).
Flashlight or head lamp
Light raincoat.
Camera equipment and memory cards (batteries and chargers)
Binoculars
DURING YOUR STAY
Should I be worried of wild animals?
You are lucky if you've got the chance to have close encounter with wild animals but they should not be disturbed of disadvantaged by your presence. This is to ensure your safety as well as the wild animals. Your tour guide should ensure your safety especially where dangerous animals are concerned. Be especially watchful and never leave children unattended.
Are there any mosquitoes? How to protect from mosquitoes bite?
Yes of course. Be sure to use mosquito repellents to protect yourself and wear long sleeves and pants.
Can I swim at the river?
No. As your safety has top priority throughout our business, we do not encourage you to swim at the river consider the risks created by unusual or unforeseen circumstances. To beat the heat one can always enjoy the cool dip pool available at the lodge while sipping your favourite drink.
What can I see while staying at the lodge?
Sightseeing and wildlife tours provided by the Borneo Eco Tours will give you a chance to travel through a variety of landscapes and to observe wild animals such as Orang Utan and Borneon Pygmy Elephant. There have been more than 300 species of birds recorded around here and favoured by bird enthusiast.
Do you have wifi?
We do provide free Wi-Fi at the Gecko Lounge, Gomantong Hall, Melapi Restaurant and Villa rooms.
What is the food like?
At Sukau Rainforest Lodge, we offer fusion cuisine. It's delicious, tasty and mouthwatering!
What are the rules for tipping?
Tipping is not mandatory in Borneo but will be greatly appreciated by the guides and captains. For general guidance, you can tip your guide and captain RM10 – 20 ($3 – 5) per person per day. For Specialist Guides, you can double the tipping amount to RM20 – 40 ($5 – 10) per person per day DEPENDING on the expertise, level and quality of service provided.
What kinds of activity can I do while staying here?
There are multiple of activities offered as optional tour such as swimming at the dip pool, river cruises, Halia spa, batik paintings and many more exhilarating experience. Be sure to check on this page and book additional tours to compliment your stay.
FACILITIES
Are life jackets provided on the river tours, particularly for children?
Yes. Everyone especially the children are provided with life jackets. We have more than enough kid sized life jackets for everyone that comes. They can be slightly large for a 2 years old but still wearable. Anyone older will fit perfectly.
Do you have laundry service?
Laundry service in unavailable at the moment
Is there cell phone network coverage?
There is minimal coverage for mobile phone lines. Wi-fi is available at public areas and Villa rooms.
Is it true you have no TV?
Yes. Sukau Rainforest Lodge adopts green practices thus to minimize the noise pollution we do not provide TV and radio. Forget the flat screens and enjoy the serenity as well as the various wildlife excursions!
What voltage are your electricity outlets? Do I need to bring an adapter or voltage converter?
The electricity supply is 230/240 volts at 50/60 hertz. The 3-pin electrical sockets used in Borneo are similar to those used in Britain
Are the rooms air-conditioned?
Yes. Since mid 2016, all of our rooms have now equipped with energy saving inverter air-conditioners.
Where can I get fresh drinking water?
You can buy bottled drinking water from the counter. As part of our green policies, we strongly advise and ask for your participation to minimise the usage of plastic bottles by getting drinking water from the water dispenser we provide free of charge.
Is your lodge wheelchair accessible?
Yes. The area around our lodge have boardwalks that make it easy for guests using wheelchairs to move about conveniently. We also have rooms that are wheelchair-friendly here at the lodge, and which includes Villa 3 and Villa 4. We also have wheelchairs and provide wheelchair assistance to our guests during their stay with us at the lodge.