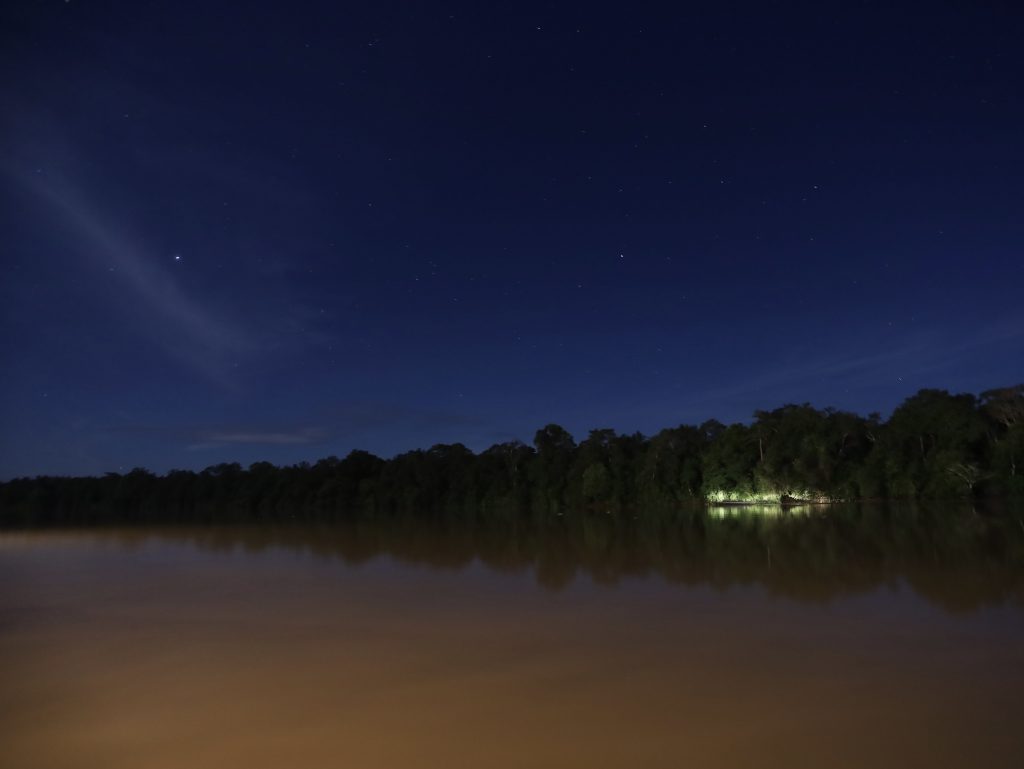 Have you ever explored the rainforest at night? On a boat? Do you know what species of animals lurk around at night? Let's take you on board as we cruise along the Kinabatangan river when the night unfolds.
When is the best time to do it?
Of course, at night. As the sun sets down behind the horizon and the dark start covering the sky, the night creatures start to dwell among the darkness. Before that, make sure the weather is on our side. If there is no sign of heavy downpours will drop anytime soon, and the sky is filled with stars. Then it's going to be a perfect time to do it.
What do you expect to see?
Forest along the Kinabatangan river is home to some of the most elusive nocturnal animals on this island. From the island's elusive wild cat Bornean Clouded Leopard, the ferocious Estuarine Crocodile, to the rarest nocturnal primates, such as the carnivorous Horsfield's Tarsier and others. Cruising at night in these waterways offers you a chance to see all these nocturnal animals. Of course, all sightings depend on luck, as all these animals mentioned are strictly wild, and some luck is needed.
Common sightings usually crocodile, an owl, and roosting birds like the kingfisher that can generally be spotted along the riverside. While the uncommon one, on the other hand, includes elusive animals such as the Bornean Clouded Leopard and nocturnal primates such as Loris and Tarsier.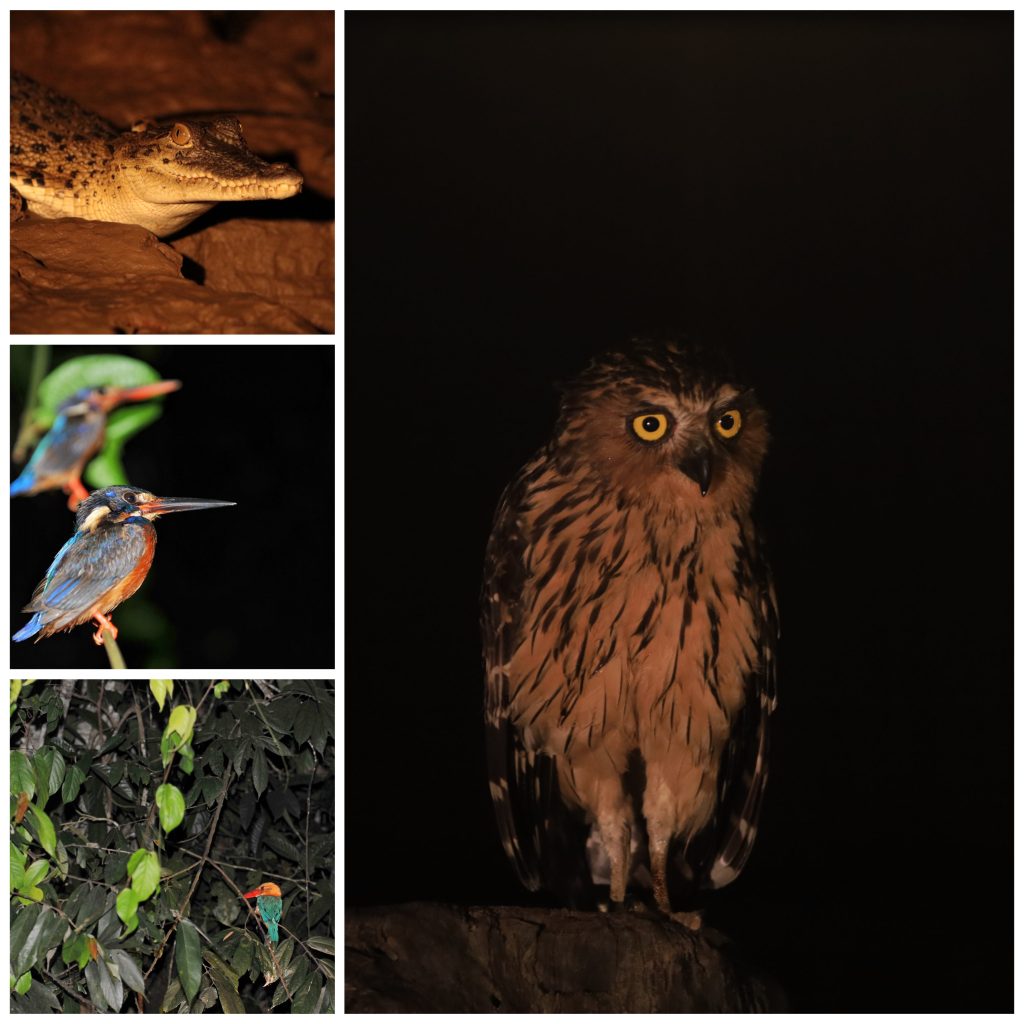 Is it safe to do?
Yes, our boat is made of fibreglasses and has all the necessary safety features, such as a life vest and fire extinguisher. Participants must put the life vest on during the excursion. Boat skippers also act as a spotter, equipped with high-power flashlights to assist during the cruise, not just for spotting purposes but also to ensure the safety during the excursion.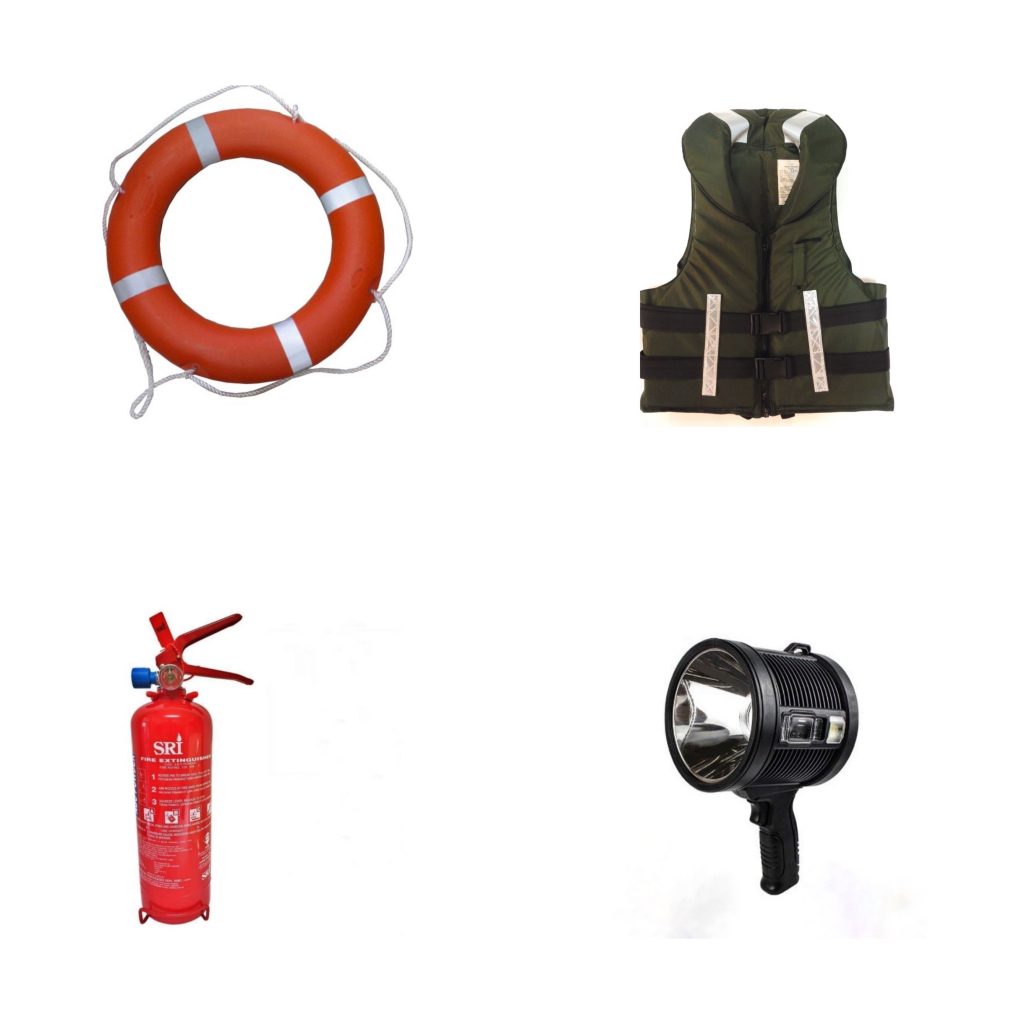 How do you spot all those animals?
The cruise boat is equipped with a high-powered spotlight; usually, the boat skipper and spotter rely on an eyes reflection of the animals. This eyeshine is produced by a special membrane called Tapetum Lucidum, a reflective surface of the membrane located directly behind the iris.
To master this art of spotting, the spotter learns more than just spotting. They need to know how to differentiate the subject or the animals based on the eye colour reflection. Other knowledge, such as where and how to look at certain animals, is also crucial for the spotter to know.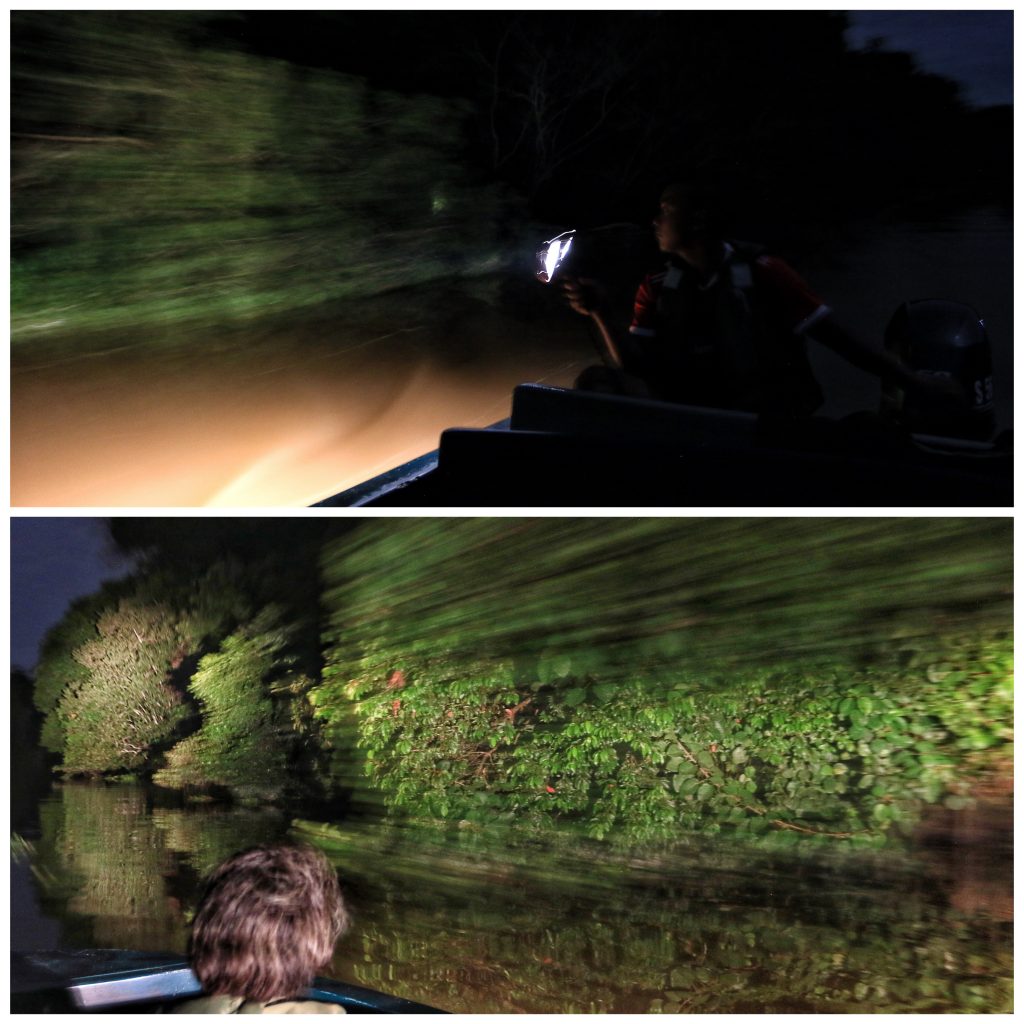 What to wear or bring?
Wear comfortable clothing, as at night the temperature is low compared to day time. Don't forget to bring a long jacket to keep warm, as it can get chilly. Rain gear will be one of the essential to bring along, as weather can change in split second sometimes.
Make it as light as possible. Torch or flashlight can bring along, but during the cruise, advisable to switch it off to avoid attracting any unpleasant insects, such as wasps. Other essential items to bring such as a phone and cameras if you wish to do any photography and dry bags to keep your valuable things or equipment safe and dry.
The do's and don't?
Observing animals in their natural environment requires proper guidelines that must be practised and adhered to, as we try to minimise our disturbance in their surroundings while awarding ourselves with the experience.
Here are some guidelines to follow:
⁃ Maintaining a safe distance from animals. Some animals will do their routine without disturbance if the distance is appropriate.
⁃ Never feed the wild animals
⁃ Lower your voice
⁃ Do not attempt to lure or attract the animals by getting their attention for your viewing or photography purposes.
⁃ Avoid using strong-smelling substances. Such as perfume, as the animals are sensitive to this unfamiliar scent.
⁃ Flash photography is not recommended. Although it has never been proven scientifically to harm animals, please keep the well-being of the animals in mind and foremost.
Night cruise along the Kinabatangan river offers you a unique look into the world of nocturnal creatures that only can be found lurking at night. Its is the only way to experience this mysterious world of darkness.
Our lodge located in one of the "Biodiversity Hotspot" in Sabah. The area harboring a exceptional diversity and abundance of wildlife. We do arrange this nocturnal excursion every evening with minimal surcharge, and of course don't forget it all depend on the weather and sighting are unpredictable. 
It has got to be hands down some of the most magnificent places. If you'd like to go on the adventure this coming holidays, Kinabatangan is a place to be.