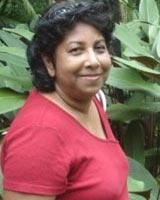 Dr. Isabelle Louis
Hailed from Kuala Lumpur, Malaysia, Dr. Isabelle Louis obtained her Bachelor of Science in Botany and PhD in Plant Pathology from University of Sheffield in the UK. She is the Director for the Asia Pacific Program of WWF International based in Singapore. Prior to this position, she was Deputy Executive Director at WWF Malaysia where she oversaw the Conservation Program of WWF Malaysia until 1998. Before joining WWF Malaysia in 1990, she was actively involved in teaching and research as a botanist and mycologist, at the National University of Singapore and Harvard University.
In her current position she supports WWF International's programs China, Mekong Region and the Pacific. With her team, they assist the offices in their operations, program development, partnerships engagement and fund-raising. The current programmatic focus of WWF's work in the AP region includes issues related to marine, forest, species, water conservation and climate change.
"As a Natural Resource Manager for the Sabah Conservation Strategy Team, WWF Malaysia 1990-1992, I contributed to the assessment that provided recommendations for the wise use and management of Kinabatangan River in the strategy which was adopted by the State Government. 20 years on, I am pleased to see the commitment to conservation made then, continues to support communities, businesses and bring tourists from around the world to enjoy the natural treasures of Sukau and the Kinabatangan region. This place is a model for sustainable development that I share with colleagues and partners in other special natural places in the world where the balance of development and conservation is being planned and benefits ensured for not just now but for the future generation."
Dr. Isabelle Louis
Sukau Rainforest Lodge is proud to dedicate room No. 9 in appreciation of her conservation work.