Other Conservation Fellows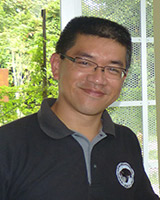 Dr. Wong Siew Te was born in Penang, Malaysia on the 16th of May 1969. Born and raised there, he later continued his studies abroad at Taiwan's National Pingtung University of Science and Technology where he received his diploma in Animal Science & Veterinary in 1992. Dr. Wong started off his career as a research assistant at the Wildlife Research Lab of the same institution in 1993. In 1994, he studied Wildlife Biology at the University of Montana where he graduated as a Bachelor of Science in 1997. In 2002, he graduated as a Master of Science with the thesis "The Ecology of Malayan Sun Bear in the Lowland Tropical Rainforest of Sabah, Borneo".
Dr. Wong found his passion for sun bears while he was conducting his pioneer studies on the vulnerable bears in the Bornean rainforest, one of the most threatened wildlife habitats on earth. It was also after witnessing sun bears being held captive in horrific conditions in private homes, zoos, farms etc which inspired Dr. Wong to fight for the welfare of these vulnerable bears. With his expertise in 'animal welfare and veterinary' education and love for sun bears, he set up the Bornean Sun Bear Conservation Centre (BSBCC) in 2008 and became the CEO and Founder of the centre. Together with the organisation Land Empowerment Animals People (LEAP), the Sabah Wildlife Department and the Sabah Forestry Department, they have formed a holistic approach to conserve the endangered species.
"I am determined to help Bornean sun bears. The challenge is huge, and I cannot do this alone. I need help, support and allies. Every voice counts and together we can make a difference," stated Dr. Wong after establishing the now renowned conservation centre for sun bears in Sepilok, Sandakan.
From year 2002 to 2005, Dr. Wong Siew Te has co-chaired the Sun Bear Expert Team for the IUCN/SSC Bear Specialist Group, a science-based network of voluntary experts within the International Union for Conservation of Nature and Natural Resources (IUCN). From year 2002 to 2011, Dr. Wong pursued his doctorate in Fish and Wildlife Biology at the University of Montana to conduct his dissertation entitled "The Effects of Selective Logging on Bearded Pigs (Sus barbatus) in lowland tropical rainforest of Borneo. He was also a fellow of the Flying Elephants Foundation, which awards individuals from a broad range of disciplines within the arts and sciences.
Sukau Rainforest Lodge dedicates Villa Number 2 in his honour.