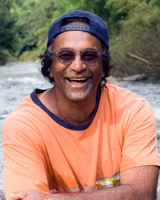 Hitesh Mehta
Hitesh is one of the world's leading authorities, practitioners and researchers on sustainable tourism and ecotourism physical planning and both the landscape architectural and architectural aspects of ecolodges. He is the longest serving Board Member of The International Ecotourism Society (TIES) and Chair of the Standards and Ethics Committee. Hitesh is also a professional photographer and an ex-cricket captain from Kenya and in July 2006, National Geographic Adventure magazine identified Hitesh as one of five Sustainable Tourism Pioneers in the world. In July 2005 he was named by Men's Journal, a New York based Magazine as the "25 Most Powerful People in Adventure" in the world.
Hitesh has been interviewed, featured, mentioned in over 115 international magazines, newspapers, books, blogs and is the author and photographer of Authentic Ecolodges which was launched by Harper Collins in November 2010. Hitesh is an internationally awarded Environmental Planner, Architect and Landscape Architect and has vast experience in Protected Area Physical Planning having worked on Sustainable Tourism Plans for National Parks that protect the last remaining endangered species such as Mountain Gorillas in Rwanda and DR Congo; Chimpanzees in Uganda and Rwanda; Jaguars in Costa Rica; Giant Pandas in China; Western Lowland Gorillas in Gabon, Tigers in India and Black Rhinos and Lions in Kenya.
As a tribute to Mr. Mehta's contribution in conservation, Sukau Rainforest Lodge dedicates room No. 18 to him.