Karen and Quentin Phillipps
Other Conservation Fellows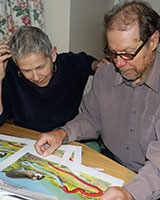 Born in Sandakan, brother and sister duo Karen and Quentin Phillips developed a life-long interest in the natural history and ecology of Borneo's rainforest at an early age. Their father, Adrian E Phillipps was the Managing Director of the leading timber business in the then British Crown Colony of North Borneo. In 1956, their family moved to the Tuaran Rubber Estate on the West Coast of Sabah and in 1963, the family moved to a new home with a 2 acre garden next to Tg. Aru Beach, Kota Kinabalu
Their mother, Susan Phillipps who was a keen gardener, naturalist and botanical artist, had inspired all of her six children (4 boys and 2 girls) including Karen and Quentin to become keen amateur naturalists during a period in the (1970s and 1980s). That was when the forests of Sabah were first being opened to public access with new logging roads and national parks.
After boarding school in England, Karen trained as a graphic artist at the Camberwell School of Arts and crafts whilst Quentin graduated in Economics from King's College Cambridge and started his own property business in London.
Whilst based in Hong Kong, Karen illustrated numerous best-selling bird and mammal books including Mammals of Borneo, Birds of Hong Kong, Birds of China, Birds of Sulawesi and Birds of Borneo, Sumatra, Java and Bali.
More recently Karen and Quentin have collaborated as artist and author to produce 4 editions of the Phillipps Field Guide to the Birds of Borneo and 2 editions of the Phillipps Field Guide to the Mammals of Borneo.
Karen and Quentin enjoy working together on their favourite hobbies and salute Sukau Rainforest Lodge and Albert Teo for their valuable contribution to sustainable eco-tourism in Sabah.
Sukau Rainforest Lodge is proud to dedicate a room to both Karen and Quentin Phillipps for their significant contribution to the conservation of Borneo's rainforest through their writings and illustrations.
*Anthea Phillipps, their sister is also a Conservation Fellow together with her husband Anthony Lamb.

Sukau Rainforest Lodge dedicates Villa Number 6 in their honour