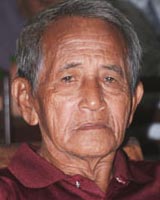 Kari Bin Ongong
The contribution of the late Mr. Kari bin Ongong to Sukau Rainforest Lodge (SRL) is immense. Mr. Kari is an Orang Sungai (the locals tribe who lives along the Kinabatangan River), the initial land owner of the Sukau Rainforest Lodge site.
When Lodge owner Mr. Albert Teo was faced with leasing an area to build the lodge in 1994, Mr. Kari offered to sell the land to him, which is against the local tradition. "I sold the land after we discussed the benefit from selling of the land. I decided that is best to sell off the land with the conditions that my children and grandchildren are given the opportunity to work in the lodge and that when a boat charter is required, our boats will be given priority before the others", Kari said.
Kari was initially severely criticized by his neighbors and relatives for selling his land to the lodge. The villagers berated him and questioned his judgment, but Kari knew that the land was of little use if left idle. He felt he could create a better future for his family and allowed his grandchildren to continue their education if he sold the land and let it be used for the ecolodge. His move was beneficial to his family members were employed and obtained the rights to conduct river cruises for Borneo Eco Tours' clients. Priority is always given to him and his family members for employment opportunities and boat charters.
According to Kari, Sukau Rainforest Lodge provides employment opportunities in the village from the sale of the locally produced food such as fish, prawns, and vegetables. The locals also do odd jobs in SRL such as repairing the jetty, sundeck, extending the staff quarters, making boats, supplying timber and engaging boats for river cruises.
"I am particularly happy to see that the lodge is engaging locals from this area, apart from my children and relatives, to work in the lodge. The lodge is benefiting the locals so it shows I did not make the wrong decision when I sold the land to the company"
Kari Ongong
In January 2001, a boardwalk linking Melapi Jetty to the main building was constructed and named 'Kari Boardwalk'. Kari passed away in 2007. In addition, we dedicated room no. 3 to Kari in recognition of his significant contribution to our conservation and community projects.