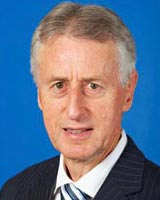 Professor Ross Dowling
Professor Ross Dowling is the founder of Tourism in the School of Marketing, Tourism & Leisure, at Edith Cowan University (ECU), Western Australia. He works internationally in the development of Ecotourism, Geotourism and Cruise Ship Tourism. He is an ad-visor to the UNESCO Global Network of National Geoparks, an Executive Board Member of the Indian Ocean Tourism Organization (IOTO), Deputy Chair of Ecotourism Australia, and Chair of the Forum Advocating Cultural & Eco Tourism [FACET] in Western Australia.
As a Director of Ideology Pty Ltd, Professor Dowling plays an active role as a consultant and international speaker on tourism around the world including in Borneo. A keynote speaker and panel facilitator at the 2005 Borneo Ecotourism Conference held in Kota Kinabalu; Co-Convenor and keynote speaker of the 4th International Borneo Tourism Conference in Sarawak, in 2007; and keynote speaker at the Developing Sabah's Tourism Products & Brand Seminar in Kota Kinabalu in 2008. In recent years Professor Dowling has brought two groups of tourism students from Edith Cowan University to Sukau Rainforest Lodge and several proposals made by the students have been adopted by the Lodge.
Professor Dowling and his wife Wendy have visited the Kinabatangan River Basin and Sukau Rainforest Lodge on many occasions and they are always enthralled by the alluring beauty of this region.
He states "We first stayed at the Sukau Rainforest Lodge for a couple of days and were struck by the beauty of the place. I think that Mr. Albert Teo is a visionary pioneer who has opened up this region for discerning, environmentally friendly tourists to view. He and the whole Sukau Rainforest Lodge team should be commended for the way in, which they have, integrated tourism with the local community and surrounding tropical rainforest. This is one of the last pristine wilderness regions on the face of the planet and Albert and his staff are the custodians of it. In my opinion they are doing this in a magnificent way working with the local people to secure the future of this area through ecotourism".
Ross Dowling
Professor Dowling was born in Auckland, New Zealand and now lives in Perth, Western Australia. He holds degrees in Geology, Geography and Environmental Science as well as diplomas in Educational Administration, Sport & Recreation, and Teaching. His passion for ecotourism has kept him in this field for over thirty years and he has worked as a tour guide around the world including Asia, the Pacific and the Antarctic. For his contributions to the environment he has been awarded a New Zealand Conservation Foundation Citation and a Mobil Environmental Award. He was also the recipient of the Medal of the Order of Australia in 2011 for service to the hospitality and tourism industry, to education, and to the development of ecotourism.
As recognition for his active involvement and contribution to ecotourism in Sabah and Sukau, Sukau Rainforest Lodge dedicates room No. 13 to Prof. Ross Dowling.