Other Conservation Fellows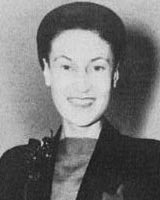 Agnes Keith (July 4, 1901 – March 30, 1982) was born in Illinois, USA. Prior to sailing for Borneo, she married to Henry Keith, known as Harry in 1934. Harry was Conservator of Forests and Director of Agriculture for the government of North Borneo under the Chartered Company and was also Honorary Curator of the State Museum.
During World War II, Agnes and her son, George were imprisoned on Berhala Island near Sandakan. They spent eight months there before the relocation to Batu Lintang camp near Kuching, Sarawak. All three members of the Keith family were liberated from internment in 1945 by the Australian army.
After their liberation, the Keiths moved to Victoria, British Columbia. Agnes wrote her second book, an autobiographical account of her imprisonment. On her release Agnes had gathered up her notes and diary entries from their various hiding places and used them as the basis for her book, Three Came Home, published in 1947. It detailed the hardships and deprivations which the internees and POWs had undergone under the Japanese, and became a bestseller. In 1950, it was turned into a motion picture, Claudette Colbert played the role of Agnes.
Agnes and George finally returned to Sandakan in 1947 and reunited with Harry who returned to Sandakan earlier. In 1951 the third book in Agnes's Borneo trilogy was published and was titled White Man Returns. This chronicled the time from Agnes's and George's return to Borneo up to December 1950 and remained in Sandakan until 1952.
In 1946-1947, they built a house named 'Newlands' and lived there until they left Sabah in 1952. After nearly fifty years of gradual deterioration, first under tenants and then as an empty shell, the house was restored by Sabah Museum in collaboration with the Federal Department of Museums and Antiquities in 2001. The house is a rare survival of post-war colonial wooden architecture. It was opened to the public in 2004 and is a popular tourist attraction. It contains displays on Agnes and Harry Keith as well as information about colonial life in Sandakan in the first half of the twentieth century.
The title of Agnes' first book about the then North Borneo, 'Land Below the Wind', has become the unofficial motto of Sabah. The phrase was used by sailors to describe all the lands south of the typhoon belt, but Agnes popularized the special connection of the phrase with Sabah, by applying it exclusively to North Borneo in her book. Agnes Keith died at age 80 in British Columbia, Canada. (Adapted from Wikipedia)
Sukau Rainforest Lodge pays tribute to Agnes Keith for her contribution to Sabah's literature history and her travelogue around Sabah including her accounts on her travel up the Kinabatangan River. Superior Room No. 15 is proudly named after Agnes Keith.